Requiem
Requiem is performed by leading violinist Janice Graham, accompanied by the English Studio Orchestra and arranged and conducted by Geoffrey Alexander. Janice has performed Requiem many times in concert with The English Sinfonia. The next performance of Requiem is at the Cadogan Hall on October 16th in a programme that also includes music by Wagner, Haydn and Holst. Tickets are available now from the Cadogan Hall Box Office.
A recent performance by Janice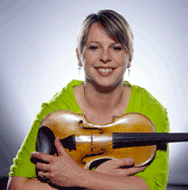 was described as "heart-stopping" by The Times. Janice was leader of the London Symphony Orchestra and is currently leader of the English Sinfonia.
Janice has appeared as Guest Leader of the Royal Opera House, The BBC Symphony Orchestra, Bournemouth Symphony Orchestra, London Sinfonietta and the Nash Ensemble.
Composer Adrian Munsey worked with Geoffrey Alexander on Incognito and this new collaboration extends this relationship. A distinguished film arranger, Geoff's recent arranging credits are as diverse as Planet Earth with George Fenton, the films of Merchant Ivory and Phantasia with Andrew Lloyd Webber.
Launched on download on April 23rd 2007 on all leading download sites including iTunes, Requiem is the title track on Adrian's forthcoming album, released on October 16th. This follows up Adrian Munsey's successful and widely played double album Incognito.
Adrian's new album, of which Requiem is a centrepiece, includes collaborations with a number of artists, including The Treorchy Male Voice Choir, Elin Manahan Thomas and Keedie. 12 pieces were recorded with the City of Prague Philharmonic Orchestra.
The songs were created in collaboration with Jeff Chegwin, who wrote the lyrics to all three songs on Requiem and others that are works in progress.
More varied than Incognito, the new album explores a number of diverse musical themes and genres.
Track Listing
1. Requiem
2. Themes from Images of Nature
3. The Right Words
4. Faraway Place
5. The Distance Between
6. Broadwell
7. Beautiful Earth
8. The Sky Inside
9. I Would Lay Down My Life for You
10. Voice of An Angel
11. I've Been Praying
12. Faraway Place
The Sky Inside
Shot in Northumberland, this music video has been extensively played on Classic FM TV. Featuring the City of Prague Philharmonic Orchestra.